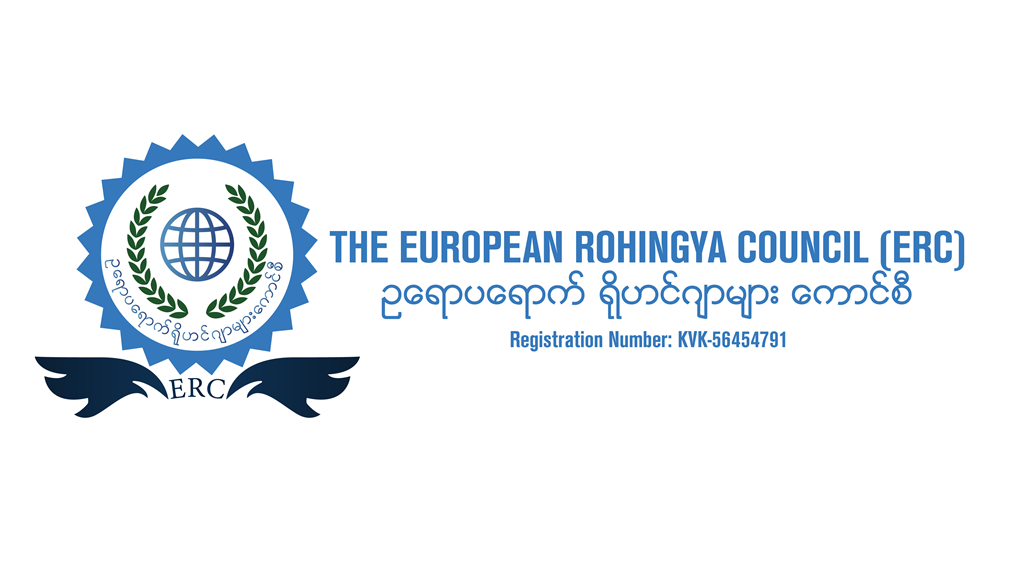 Declaration of Rohingya Genocide Remembrance Day: 25th August
Press Release
August 25, 2021
1. The European Rohingya Council (ERC) along all the Rohingyas around world remembers today as one of the darkest days in the history of Rohingya. It was on 25th August in 2017 when Burmese military together with its accomplices committed wholesale genocide against innocent Rohingya in Arakan State[i] of Myanmar.
Together with the world's leading scholar on famines Professor Amartya Sen[ii](Nobel Prize winner in Economics at Harvard University) and the veteran anti-apartheid campaigner Desmond Tutu[iii](Nobel Peace Laureate),  We, ERC, fully recognize Myanmar's decades-long persecution of Rohingya as genocide. This is a common finding of 4-independent studies[iv]published by Permanent Peoples Tribunal on Myanmar (September 2017), Yale Law School Human Rights Clinic (October 2015), Queen Mary University Law School's International State Crimes Initiative (October 2015) and Pacific Rim Law and Policy Journal of the University of Washington School of Law (Spring 2014);
We, ERC, unequivocally support the calls for international accountability and justice made by senior most UN human rights officials[v], UN Special Rapporteur on human rights in Myanmar Professor Yanghee Lee[vi](2014-present) and ICC Prosecutor[vii]and President[viii]of the ICC's Pre-Trial Chamber I regarding Myanmar's crimes against humanity in the form of systematic and pre-planned and violent deportation of about 800,000 Rohingya women, men, children and elderly people from their original homeland, since October 2016, across Myanmar's western borders on to the soil of neighbouring Bangladesh;
We, ERC, declare 25 August (2017) as the Rohingya Remembrance Day; on that unfortunate day the combined Myanmar Armed Forces – Navy, Air Force and Army – launched large-scale premeditated attacks against the substantial segment of the Rohingya population in Northern most part of Rakhine State of Myanmar, having used the invented "pretext"[ix]– that the Arakan Rohingya Salvation Army (ARSA)[x], a 1-year old group of largely illiterate barefooted young Rohingya village men armed with farm tools such as machetes, spears and a few home-made grenade, had launched (coordinated) "attacks on 30 police outposts" in N. Rakhine, Myanmar government's official story which has never been independently verified by any credible research, media or UN agency;
Finally, we, ERC, support the existential needs of several million Rohingyas violently deported by Myanmar government in periodic waves of exodus since 1978 to secure protected and dignified return to their birthplace and ancestral homeland in Northern Rakhine. This will require international protection, with or without the Security Council consensus– until such a time as Myanmar is ready to accept them as full and equal citizens, with all universal human and minority rights, the official status[xi]which Rohingya had enjoyed upon independence from Britain well-into the late 1970's.
The European Rohingya Council (ERC) calls upon international community including Myanmar´s neighbours to pressure military junta to stop persecuting Rohingya and all other peace loving people of Myanmar.
For more information:
Dr. Ambia Perveen
Chairperson
The European Rohingya Council
info@theerc.eu
References:
[i] Gregory B. Poling (13 Feb. 2014) "Separating Fact from Fiction about Myanmar's Rohingya", Center for Strategic and International Studies, Washington, DC, https://www.csis.org/analysis/separating-fact-fiction-about-myanmar%E2%80%99s-rohingya & Michael W. Charney (26 Feb. 2018)  "A State Myth of 'a National Race' and the Tatmadaw's (the Burmese Armed Forces) War on the Rohingya and Other Myanmar Ethnic Groups," The Berlin Conference on Myanmar Genocide, The Jewish Museum of Berlin, Germany.  https://maungzarni.net/en/news/professor-michael-charney-soas-identities-and-histories-rakhine-and-rohingya
[ii] Alvin Powell (7 Nov. 2014) "The threat to Burma's minorities: Government targeting Rohingya, Karen peoples, critics say", The Harvard Gazette, https://news.harvard.edu/gazette/story/2014/11/burma-genocide/
[iii] Desmond Tutu (29 May 2015) "THE SLOW GENOCIDE AGAINST THE ROHINGYA", Newsweek, http://www.newsweek.com/tutu-slow-genocide-against-rohingya-337104
[iv] Simon-Skjodt Center for the Prevention of Genocide, US Holocaust Memorial Museum & Fortify Rights (Nov. 2017), "They tried to kill us all.": Atrocity Crimes against Rohingya Muslims in Rakhine State, Bearing Witness Report, US Holocaust Memorial Museum, Washington, DC, https://www.ushmm.org/m/pdfs/201711-atrocity-crimes-rohingya-muslims.pdf ; "Judgment of the Peoples' Tribunal on Myanmar", Permanent Peoples' Tribunal on Myanmar, University of Malaya Faculty of Law, Sept. 2017; International State Crime Initiative, (Oct. 2015), "COUNTDOWN TO ANNIHILATION: GENOCIDE IN MYANMAR", Queen Mary University of London Law School, http://statecrime.org/state-crime-research/isci-report-countdown-to-annihilation-genocide-in-myanmar/ ; Allard K. Lowenstein International Human Rights Clinic, Yale Law School (Oct. 2015) "Clinic Study Finds Evidence of Genocide in Myanmar", Yale University, https://law.yale.edu/yls-today/news/clinic-study-finds-evidence-genocide-myanmar ; Maung Zarni & Alice Cowley (Jun. 2014) "The Slow-Burning Genocide of Myanmar's Rohingya", The Pacific Rim Law and Policy Journal, University of Washington School of Law, http://digital.law.washington.edu/dspace-law/handle/1773.1/1377 .
[v] "Rohingya crisis: UN rights chief 'cannot rule out genocide'," BBC, 5 December 2017, http://www.bbc.co.uk/news/world-asia-42234469
[vi] "UN Special Envoy claims Aung San Suu Kyi could be guilty of crimes against humanity," Channel Four News, UK, 14 Feb. 2018, https://www.channel4.com/news/un-special-envoy-claims-aung-san-suu-kyi-could-be-guilty-of-crimes-against-humanity
[vii] War crimes prosecutor seeks jurisdiction over Rohingya deportations, Reuters, 10 Apr. 2018, https://maungzarni.net/en/news/war-crimes-prosecutor-seeks-jurisdiction-over-rohingya-deportations
[viii] President of the Pre-Trial Division (11 Apr 2018) "Decision assigning the "Prosecution's Request for a Ruling on Jurisdiction under Article 19(3) of the Statute to Pre-Trial Chamber I", International Criminal Court, The Hague, https://www.icc-cpi.int/CourtRecords/CR2018_02081.PDF
[ix] "What can stop the extreme violence against Rohingya Muslims?", PBS, 12 Oct. 2017, https://www.pbs.org/newshour/show/can-stop-extreme-violence-rohingya-muslims
[x] Faisal Edroos (13 Sept. 2017) "ARSA: Who are the Arakan Rohingya Salvation Army?" Al Jazeera English, https://www.aljazeera.com/news/2017/09/myanmar-arakan-rohingya-salvation-army-170912060700394.html
[xi] "Rohingyas are equal and full citizens and an ethnic minority integral to the Union of Burma", Unofficial English Translation of the Official Burmese Language Transcript of the keynote address  delivered by Deputy-Commander-in-Chief (Army), Brigadier General Aung Gyi, Ministry of Defence, 4 July 1961, Rangoon, Union of Burma.  See the Burmese original and the text of the English translation here: https://maungzarni.net/en/news/rohingyas-are-equal-and-full-citizens-and-ethnic-minority-integral-union-burma-myanmar-military