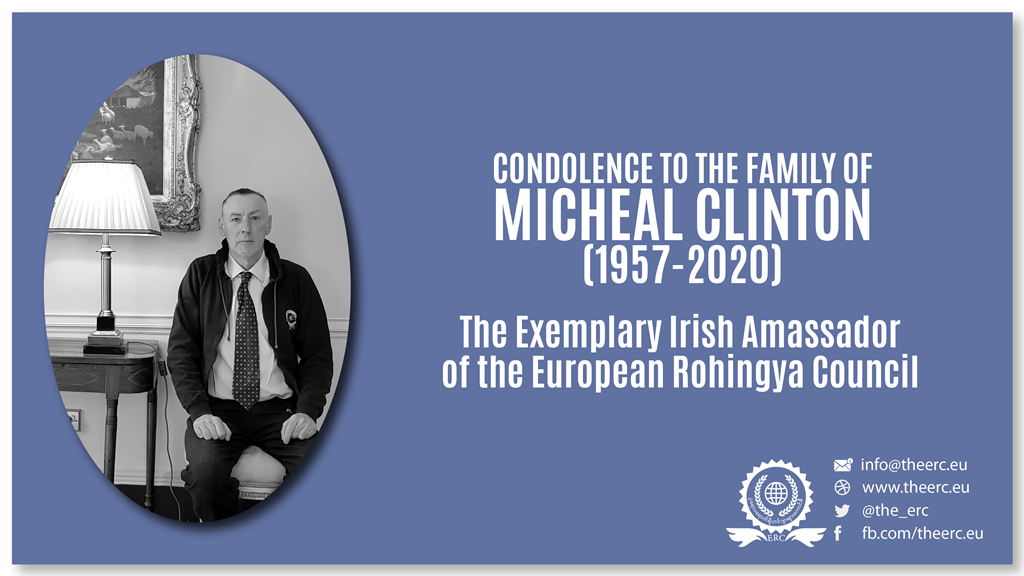 Statement of Condolence
Micheal Clinton [1957-2020]
An Exemplary Irish Ambassador of the European Rohingya Council
The European Rohingya Council (ERC) is deeply saddened to hear the devastating news of Micheal Clinton's untimely demise at the age of 63 on September 19.
Micheal was elected as the Irish Ambassador for the European Rohingya Council in December 2017 on the basis of his "dedication, perseverance, hard work and solidarity with Rohingya". He was known in the Rohingya diaspora for his unparalleled contributions in campaigning and raising awareness on the persecutions of Rohingya people in Myanmar.
Micheal was a valuable asset for the community which has seen a diminishing number of voices on the global stage as the Rohingya victims of genocide continue to live in limbo in refugee camps in Bangladesh and the remaining Rohingya civilians continue to face the ongoing genocide in Rakhine State, Myanmar.
Micheal has passionately sacrificed his personal health and family to advance the cause of Rohingya and that of other persecuted communities around the world, notably Uighurs, Kashmiris and Palestinians.
He was a well-respected and loved member of the European Rohingya Council.
Loss of such a prominent voice for Rohingya is irreplaceable.
On behalf of the Rohingya people, the European Rohingya Council expresses the deepest heartfelt condolences and prayers to the family and relatives of Micheal Clinton who has led the Irish ambassador of the European Rohingya Council professionally, passionately and exemplarily.
Dr. Hla Kyaw
Chairman
The European Rohingya Council
chairman@theeru.eu